Crews tackle Mullins heating company fire in Shrewsbury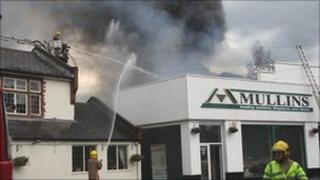 Dozens of firefighters have been tackling a fire at a heating system business in Shropshire.
The roof of Mullins heating systems on London Road in Shrewsbury has been destroyed by the fire which started at about 1400 BST.
Surrounding roads have been closed and will remain shut until Saturday amid fears that propane cylinders stored there may explode.
The fire, seen by a passing ambulance, is not thought to be suspicious.
Semi-final fixture
Shrewsbury take on Torquay in the second leg of the Npower League Two play-off semi-final later and police are "working around the issue" to keep traffic moving in the town.
Andy Johnson, from Shropshire Fire Service said, the scene and surrounding roads will remain closed for a mandatory 24-hours because of concerns about the cylinders heating up.
He said: "We had to close part of London Road near the Column roundabout and Wenlock Road adjacent to the roundabout but St Giles road is open.
"But we are conscious there's a football match on and the police are conscious of that and they will be working around that issue and keeping people informed."
Six fire engines were called to the scene and a nearby pub was also evacuated, he added.
Crews will assess the building in the morning.