Urgent repairs to start at historic Shrewsbury church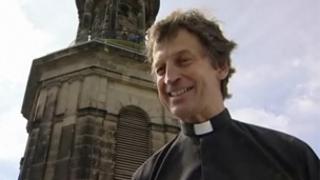 Urgent repairs to a historic church tower in Shropshire will begin this month, following a year-long fundraising campaign.
St Chad's in Shrewsbury is Grade I listed, and in June 2010 a campaign was launched to raise £1m for restoration work on the organ and the stone tower.
£1,040,000 has been raised from donations and grants including £150,000 from Shropshire Horticultural Society.
St Chad's vicar, Mark Thomas, said the total was "thrilling".
The minister said enough money had been raised to commission work on the tower and scaffolding would be erected from 31 May.
He added that restoration and repairs should be completed by the end of the year.
'Joint effort'
St Chad's was designed by George Steuart and replaced the Old St Chad's Church which fell down in 1788.
Rev Thomas said he was pleased with the money raised: "We didn't really know what to expect, but the fact we've been able to do this in 12 months is really really thrilling."
"It's been a joint effort, both church and community and wider trusts," he said.
£250,000 had been donated by worshippers at St Chad's with £72,000 coming from the Friends of St Chad's.
The National Churches Trust has awarded £40,000 and £250,000 has come from English Heritage and the Heritage Lottery Fund.
Other grants have come from Lord Leverhulme's Charitable Trust, Shrewsbury Town Council, Shropshire Historic Churches Trust and the Gill Franklin Trust.
As part of the same campaign £50,000 has been donated to the Ark in Shrewsbury, a charity which supports homeless and vulnerable people. The award was funded through the Roy Fletcher Trust and the Walker Trust.
Fundraising will continue at St Chad's for a further £1.5m for new kitchen, restaurant and toilet facilities.