Shropshire Fire and Rescue Service plans Telford savings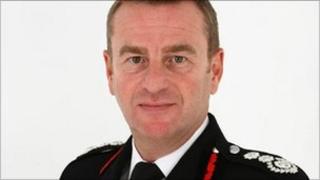 Shropshire Fire and Rescue Service is to make operational changes in Telford to help achieve £4m savings over the next four years.
Under the plans the number of watch managers at Telford's three fire stations will be reduced from 12 to eight by the end of July.
Chief Fire Officer Paul Raymond also said firefighters taking retirement would not be replaced.
The proposals are expected to save £320,000 a year.
The Fire Brigades Union (FBU) said it had concerns about the proposals but wanted to see the results of consultation before commenting further.
Fire stations
The fire service said it did not plan to reduce the total number of fire engines serving the Telford area.
Currently two units are based at Tweedale, one at Wellington and one at Stafford Park fire station.
The proposals mean one of the two units based at Tweedale will be moved around Telford, depending on where the risk is greatest.
Over the next four years Shropshire Fire and Rescue is facing a 28% cut to its current £21m budget.
Mr Raymond described the savings as "a huge challenge".
As well as cuts to senior commanders and support staff, the service plans to operate with 50 fewer front line firefighters by 2015.
Currently some 500 firefighters are employed in the county.
The consultation process is scheduled to finish on 17 June.