Telford Spout Farm visitor centre demolished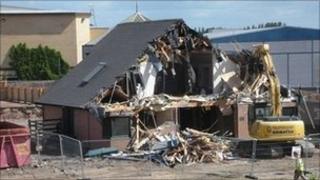 A Shropshire visitor centre has been demolished to make way for a £250m development.
The land occupied by Spout Farm House on the edge of Telford town park has been earmarked as part of the new Southwater build.
The Southwater scheme is expected to take up to 20 years to complete and regenerate the area between the town centre and the park.
Telford and Wrekin Council said work on a new centre would start in June.
The Southwater development is a partnership between the council, and the Southwater Event Group and will include retail, residential and leisure units, alongside restaurants and office space.
It was also at the centre of rival party manifestos in the run up to council elections on 5 May.
Telford and Wrekin's new Labour administration has said it intends to pull out of a commitment, by the previous Conservative-led council, to move civic offices into Southwater.
The new visitor centre, near Withy pool, is expected to be completed by the end of the year.