Soldier Stuart Laurie praised for Afghan rescue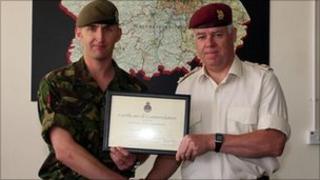 A Midlands soldier who took control after his commanding officer was injured in a fire fight in Afghanistan has been honoured for his bravery.
Sgt Stuart Laurie was second in command of an Operational Mentoring and Liaison Team (OMLT).
The team came under fire during a joint operation with a battalion of Afghan National Army (ANA) soldiers in 2009.
Six soldiers, including both commanders, were injured and Sgt Laurie took control of evacuating the site.
The Derby-born soldier, 30, who now lives in Telford, is currently serving with the Army Recruiting Team based at MOD Stafford with 143 (West Midlands) Brigade.
He has been recognised for his actions in August 2009, while on his second tour of duty in Afghanistan.
'Highly volatile'
The Afghan team had planned to offer cover so the British team could withdraw from a site they had been watching for enemy activity but when the Afghan commanding officer was hit in the chest and back he lost control of his team.
Sgt Laurie stepped in to take control of both teams and organised treatment for the injured soldiers.
He then found a safe place for them to be moved to so they could be airlifted to safety.
In a citation on the incident, Sgt Laurie's commanding officer said: "With both the ANA company commander and his OMLT commander injured, Sgt Laurie's composure and control of both the OMLT and ANA force ensured the swift evacuation of a large number of casualties against the backdrop of a highly volatile ANA, changes in the evacuation plan and a British force element of only six, including himself.
"Despite being only a sergeant, he took command in the most arduous circumstances and safely and effectively synchronised the force's evacuation.
"His personal example held the ANA at their posts and prevented a withdrawal becoming a rout."