Bridgnorth hospital surgery unit prepares to reopen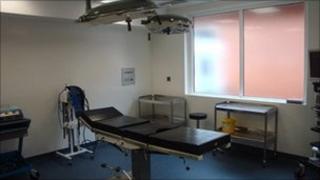 A newly refurbished day surgery unit opens on Thursday thanks to the work of Shropshire campaigners.
A £500,000 modernisation at Bridgnorth hospital has been jointly funded by the League of Friends and Shropshire County Primary Care Trust.
The unit closed in January 2010 after it failed to meet infection control standards.
Chairman of the hospital's League of Friends Brian Mayhew-Smith said the group had fought for the refurbishment.
Mr Mayhew-Smith said: "We decided we really needed to take some action because the trust told us that it was unlikely they would have the resources to upgrade the theatre.
'Tremendous support'
"We completed nearly 5,000 signatures on the petition and we offered to put £250,000 in to help with the budget."
"The tremendous support for the hospital has shown how central it is to the local community," Jo Chambers, chief executive of Shropshire Community Health NHS Trust said.
The modernisation has included new hand basins and flooring, as well as other hygiene facilities and new theatre equipment.
The nurse in charge, Sister Lesley Warren, said a wide range of surgery would be performed at the new unit, under local anaesthetic.
Any operations requiring general anaesthetic will be completed at the Royal Shrewsbury or Telford's Princess Royal hospitals.