Lynx helicopter gets TV facelift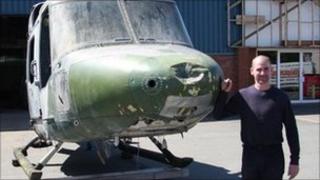 Two Shropshire businesses have been putting the finishing touches to one of their more unusual commissions.
Retro Aviation in Hodnet and Shrewsbury's MJ Welding have been converting a Lynx helicopter to look like an American Black Hawk.
The project was commissioned by a Channel 4 documentary team, who are planning to recreate a rescue attempt.
The work is being done by two firms which have turned their hand to a very specialised form of recycling.
The converted helicopter will be filmed as it is dropped into a lake. After recovery, the firms will turn it back into a Lynx.
Richard Parr, from Retro Aviation, said that while the conversion to a Black Hawk helicopter would not stand up to very close scrutiny, it should look convincing on camera.
"We work very closely with the art director on the film and he tells us exactly what he wants and we tell him whether we can or can't do it," Mr Parr said.
The restored Lynx will then be transported to a site in Warwickshire which offers laser-combat war game activities.
Hollywood films
Retro Aviation, based in north Shropshire, specialises in sourcing and restoring a variety of aircraft.
The Hodnet-based business has worked on a number of Bollywood and Hollywood films, including the James Bond movie Quantum of Solace.
Mr Parr said most of the company's work was with private collectors and museums, including the nearby RAF Cosford museum.
"We've had everything from jets from Romania to airliners, flight simulators, big jumbo jet engines, all sorts... we've even converted airliners to school classrooms."
A Phantom F4 fighter jet is sitting near the Lynx.
Shrewsbury-based welder Mark Evans, who also has a track record in aircraft restoration, said: "We've done several different ones now, more for private collections as opposed to films."
Mr Evans started out as an apprentice welder with Rolls Royce.
He said the variety of work had surprised him since starting his own business, MJ Welding, four years ago.
The welding company has restored several jets, as well as converting a Russian Mig fighter into a simulator.
"You just meet different people and things come up and either you take the chance or you don't get involved," he said.
"The first Phantom was quite intimidating really when you open the shed door in the morning and it's full of Phantom. We're getting a bit more used to them now."