Telford landfill Stephen Round murder: woman admits charge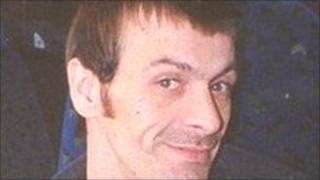 A Shropshire woman has admitted murdering a father-of-three whose body was found on a council landfill site.
Zena Tinsley, 28, of Boulton Grange, Randlay, Telford, pleaded guilty over the death of Stephen Round, 43, who was discovered at Granville tip last July.
James Haigh, 31, and girlfriend Melissa Parkes, 22, from Church Street, St Georges, admitted manslaughter.
Mr Round was attacked at their flat, Shrewsbury Crown Court heard. The three will be sentenced on 1 July.
They admitted perverting the course of justice, hiding the body in an airing cupboard and then dumping it at the tip in Redhill.
Mr Round, who was killed between 27 June and 2 July 2010, when his body was found, had been repeatedly kicked, punched and stamped on.
Forensic results showed his blood was found on clothing Tinsley was wearing at the time, the court heard.
A post-mortem examination revealed Mr Round, who lived alone at Hayward Avenue, St Georges, suffered head and neck injuries.