Shropshire sweet pea champion appointed MBE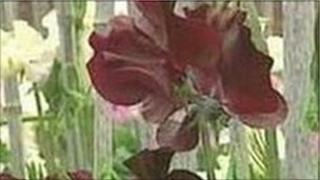 A flower lover who helped found a celebration of the sweet pea is among Shropshire's recipients in the Queen's Birthday Honours list.
Val Good has been appointed MBE for services to gardening, particularly to the sweetpea flower in Wem.
Mrs Good has been involved in the The Eckford Sweet Pea Society of Wem since it was founded in 1988.
The society hosts an annual show which attracts growers and gardeners from all over the UK.
Shared award
Mrs Good's husband John, who died in 2006, also helped found the society.
She said: "I think John would be delighted but it was him really who had the original idea to bring the national show to Wem.
"As far as I'm concerned it's an award to me that is shared by all the folks in the sweet pea society, the traders, businesses and councils, without whom the society wouldn't have got off the ground."
Other people who were honoured include magistrate Harold Wardle, who was appointed OBE for services to the community and Richard Davies, director of Marches Energy Agency, who was appointed MBE for services to Sustainable Energy.