Ludlow guinea pigs stamped to death by thieves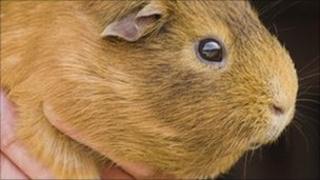 A Shropshire family has been left "devastated" after thieves stole six of their pet guinea pigs and stamped another three to death.
Police said the attack happened in Milton Road, in Ludlow, between 10 and 11 June.
A spokesman said raiders broke into two wooden hutches in the garden and made off with six guinea pigs.
Three others were killed, are are believed to have been deliberately stamped on.
The spokesman said: "The family, especially the children, are understandably very upset over what's happened.
"We are hoping someone will come forward with information to help identify the offenders."