Edible Churchscape plan is launched in Shropshire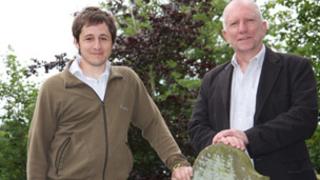 A pilot for a conservation project called Edible Churchscapes has been launched in Shropshire.
The scheme, involving redundant churches and graveyards is the work of the Churches Conservation Trust in partnership with Shropshire Council and a local wild food expert.
The year long project began at St Martin's Church in Preston Gubbals on Sunday, 19 June.
It gives people the chance to produce food for themselves and wildlife.
Back to the community
The Churches Conservation Trust takes on redundant or little-used Grade I or II listed churches to maintain them.
Robert Milton is the development officer for the trust. He wants to see the buildings and their churchyards brought back into use.
"They are valuable resources within the villages, within the hamlets.
"A lot of them are very remote but they are still important buildings that were used originally as community centres and it's our aim to involve them back with the community once again," he said.
St Martins is mentioned in the Domesday Book and has its roots in Medieval times. It is still used occasionally for services.
Free workshops
Gareth Parry of the natural environment team at Shropshire Council is keen to see the church and its graveyard as a focus of activity.
"We can manage the churchyard for its biodiversity. Churchyards are very often remnants of ancient meadows and you get some really interesting plants and vertebrates in it.
"The building itself is great for things like swallows, house martins, maybe even bats," he said.
He said he wanted to get people involved with the scheme and had enlisted the help of local countryside craftsman, Tom Adams, to show people how to graft fruit trees.
"You can come along to one of the workshops and learn how to graft
"In a year's time you can reap the benefits of that and have some nice fruit for your crumbles or whatever else you fancy," Mr Parry said.
A programme of free events and workshops are planned over the next year at St Martin's.