Your Pictures features Oswestry hospital mural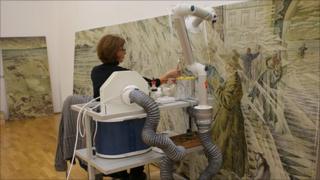 Rarely seen oil paintings are to be made available online in a BBC project with The Public Catalogue Foundation.
The collection of about 200,000 works, are all owned by public bodies, but only 20% are on general display.
The project called Your Paintings will include a mural commissioned by The Robert Jones and Agnes Hunt Orthopaedic Hospital near Oswestry.
The painting has been put on permanent display in Wrexham after being in storage for five years.
The work of art, called Dance of Life, was commissioned by the hospital in 1951 for the dining room of the new nurses' home.
Six panels
Mildred Eldridge, the wife of poet R.S. Thomas, started work on the painting in 1952, finishing four years later.
It tells the story of man's troubled relationship with nature and consists of six oil-on-canvas panels - each 1.6m (5.2ft) high - and the whole picture covers an area of 46 sq m (495 sq ft).
When the hospital was refurbished in 2005 the painting was put into storage. The work has since been restored and is now on permanent display at Glyndŵr University's Creative Industries Building.
Mildred Elsie Eldridge studied at the Royal College of Art in London.
She later taught art in Oswestry, where she met and married R.S. Thomas, who was once curate of Chirk parish church.
The artist died in 1991, followed by her husband nine years later in 2000.