Shropshire schools consider federation plans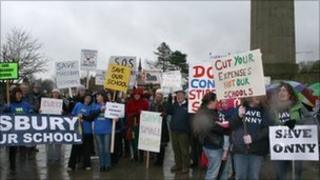 Next month Shropshire Council's cabinet is due to make a decision on the reorganisation of county schools.
The spotlight has been focused on the nine schools originally proposed for closure.
However, more than 20 schools could be affected by recommendations for federation, including three looking to safeguard their futures.
By sharing resources among two or more schools it is claimed costs could be reduced and standards improved.
Following a series of meetings last year, the authority drew up a list of schools which it thought should be considering federation.
Since then three schools originally proposed for closure have suggested they could federate instead.
Onny and Lydbury primaries have been consulting about federating with each other. Stiperstones school is also looking to federate with Hope and Chirbury schools.
The consultation period on all the closure and federation plans closes on 24 June.
'Specialist staff'
Under federation a group of schools would share a governing body, which would make decisions on issues such as spending and staffing across all schools in the group.
Savings could be made by sharing a head teacher and other specialist staff.
Kinlet, Stottesdon and Farlow schools are already looking at sharing a specialist maths teacher.
Anne Gribbin Shropshire Council's principal school improvement advisor said: "Over the next few years we are expecting there to be diminishing resources, so many schools in Shropshire will find themselves challenged in the amount of money they have."
However, unlike closures, the council cannot force federation on schools.
Ms Gribbin said: "There's no timetable. The local authority can't make them federate.
"We've begun a conversation. On 20 July there'll be a summary of where those conversations have taken those schools in terms of increased collaboration and possible federation."
Woodfield Infants and St George's Primary have already rejected federation "at this point in time".
Devon advice
Like Shropshire, Devon has a sparse population distributed across a large, rural county.
It was one of the first areas of the country to experiment with federation and the county's First Federation has been offering advice to Shropshire.
Executive head teacher Paul Jones said: "It stops duplication and replication, which we've done for so long in this country in education. We do so much the same in every school, when it can be done once."
The plan for federation in Shropshire has its roots in an Independent Policy Commission (IPC) report for the council published in July 2009.
IPC chairman Neil Kinghan recommended that there should be more collaboration, as an alternative to the large-scale closures put forward by the council in 2008.