More time to quiz Loppington burglary attack suspects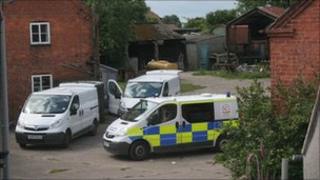 Police have been given more time to question three men held after an attack on a 76-year-old man in Shropshire.
The Loppington resident was awoken by intruders who broke into his home late on Tuesday night and left him with a head wound and fractured eye socket.
The intruders stole his Ford Ranger pick-up truck, which is still missing.
Three men were arrested on Wednesday and police have until Saturday night to either charge or release them.
Police said the 76-year-old had been forced to the floor and beaten by burglars but was now in a stable condition.
Anyone who has seen the missing pick-up truck or who has information about the burglary is asked to contact West Mercia Police or to call Crimestoppers.