Ludlow Assembly Rooms receives funding boost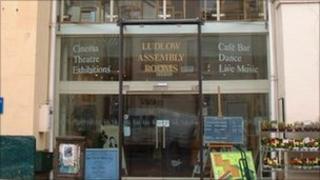 A south Shropshire theatre has been celebrating after receiving £50,000 from an anonymous donor.
The future of Ludlow Assembly Rooms had been in doubt after Arts Council England cut its annual £60,000 grant.
Director Paula Redway said the donation would be delivered in five annual instalments of £10,000.
She added that a further £30,000 had been donated to the venue at a fundraising event at the weekend.
Ms Redway said the money would be used to pay staff and update technical equipment.
She said: "It's going to help us get a digital projector, which will enable us to raise another £30,000 in revenue a year from doing films we can't currently show."
She added part of the money would be used to apply for Arts Council match funding available from September.
Ms Redway said that while she welcomed the donations, the venue still needed to raise more money to guarantee its long-term survival.
The 300-seat Ludlow Assembly Rooms features both live performances and films. It also includes a gallery space and cafe.