Public sector unions strike over pension plans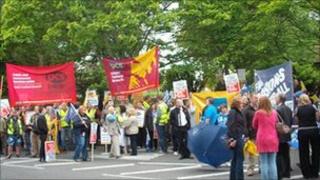 Shropshire teachers and civil servants were among hundreds of thousands of people striking nationally on Thursday over planned pension changes.
Mike Veric, regional committee member for the Public and Commercial Services (PCS) Union, said some 2,500 local members had walked out.
About 400 people attended the county's biggest rally in Donnington, Telford.
PCS members had also been picketing outside Shrewsbury's Copthorne barracks and RAF Cosford.
The civilian staff are responsible for specialist training at the military bases, as well as working in administrative support roles.
The PCS also represents workers at the Department for Work and Pensions (DWP), revenue and customs (HMRC) and job centres.
Union members outside customs offices at Addenbrooke House in Telford said only two of the 120 staff had crossed the picket line.
The PCS and teaching unions have been striking over government plans for public sector pensions, including increased contributions, working longer and moving to a "career average" scheme.
'Clear message'
The strikes have been supported by three teaching unions and more than 30 schools across Shropshire were closed, with many others partially closed.
Ludlow Conservative MP Philip Dunne said: "I think the reaction from the public will be interesting to see.
"I've been getting e-mails from parents who are constituents of mine who are extremely worried and cross."
Telford college lecturer Peter Grew is a member of the University and College Union (UCU).
He said the strikes would "send out a clear message to the government that it's got to listen, not just on the issue of pensions, but on the issue of public sector cuts".
Mr Dunne however questioned the support for strikes: "The ballot was on a low turnout and overall less than 20% of the PCS voted for strikes and I do think it is premature."
Although not directly involved in the action, members of Unison and the GMB unions expressed their support at rallies in Shrewsbury and Telford.