Threatened Wakeman school gets more consultation time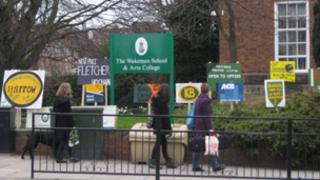 Protesters opposing the planned closure of the Wakeman School in Shrewsbury have been given more time to have their say.
The Wakeman is the only secondary among six schools set to be closed by Shropshire Council.
A six-week extension through August has been granted, as the wording on a notice about the timetable for the possible was "ambiguous".
The school is currently applying for academy status to try and keep it open.
David Taylor, head of pupil services at Shropshire Council, said: "In the notice we talk about discontinuing it from 2012, which is technically correct because at that point if the decision goes ahead to close the Wakeman, we are restricting the entry of children in years seven and year 10.
"In other words, the closure process begins and it finishes in 2013, but we can see that the wording may have been ambiguous and it may have led some people to believe that we were thinking of closing the school in 2012."
'Flawed process'
He said the cabinet would consider the matter at a meeting at the start of September, six weeks later than a meeting over five other schools being considered for closure.
Wakeman's head teacher, Karen Moore, said: "I'm glad the LA will now realise they need to look very carefully at their consultation process which we feel has been flawed in a number of respects.
But Ms Moore said she and the governors were focussing on their application for academy status for the school and felt they had a very strong case.
"Governors of the Wakeman are very determined about that and the decision about the future of the Wakeman will be in the hands of the Secretary of State for Education, Michael Gove, and not the local authority," she said.
The government could make a decision within four months, but Ms Moore said, some applications have taken longer.
A final decision on the closure of county primary schools at Barrow, Stiperstones, Maesbury, Hopton Wafers, and Ifton Heath is expected to be made at a cabinet meeting on 20 July.
The proposed federation for Lydbury North and Onny schools will be discussed, as will the creation of an "all through" school by the merger of Ifton Heath Primary and Rhyn Park secondary.
Shawbury and St Mary's Primary school in Shawbury are set to merge.