First count of rare butterfly at Shropshire reserve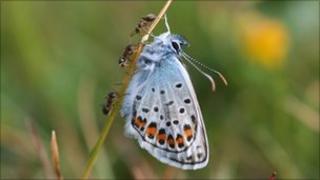 Volunteers have counted more than 3,000 rare butterflies at a Shropshire nature reserve.
Prees Heath Common near Whitchurch is the only site in the Midlands visited by the silver studded blue butterfly.
For the first time staff and volunteers have attempted to find out how many exist at the Butterfly Conservation site.
Reserve manager Stephen Lewis said volunteers were "staggered" by the sheer number of butterflies they saw.
'Highly evolved'
Mr Lewis said the silver studded blue butterfly was "highly evolved".
He said: "I think they're fantastic. They're very small - like little jewels.
"When you see them congregating it's such a wonderful sight".
According to Mr Lewis, the silver studded blue butterfly has a special symbiotic relationship with the black ant.
The caterpillar is protected from spiders and wasps by the ants, which then feed on the caterpillar's sugary secretions.
The butterfly likes sandy heathland, which over time has been destroyed by being ploughed, being built on, or simply neglected.
Mr Lewis said: "A hundred years ago the butterfly would have been relatively common.
"It really would be a good thing to expand their habitat."
Twelve volunteers counted 3,295 in three hours.
Mr Lewis said it was a strong colony, with the largest being in the south of England in places like Dorset where groups of up to 10,000 can be found.