Coal mine protesters face eviction at The Wrekin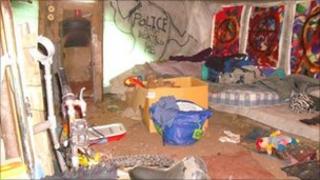 Two protesters have been arrested after chaining themselves to machinery at a coal mine at The Wrekin in Shropshire.
The men aged 19 and 22 were held on suspicion of aggravated trespass at the UK Coal site near Wellington.
It came as the firm served an eviction notice on a protest camp, which it said was "illegal, unsafe and disruptive".
But about 15 protesters failed to follow the eviction notice at 1200 BST on Tuesday and remained at the site. They now face court action.
David Bolton, surface mines manager for UK Coal, said the disruption caused by the protest had halted work for three hours, costing the company "thousands of pounds".
In its last set of annual accounts, published in April, UK Coal recorded cumulative losses of £269.3m over the last three years.
"I'm not concerned about them making a legitimate, peaceful protest offsite.
"When they actually come onto a site with large, earth-moving equipment about, disrupting the actual, lawful business, they're getting in the way of that," Mr Bolton said.
Campaigner Ruth Franklin said: "One of the principal perpetrators of environmental change is burning coal, burning fossil fuels.
"We've got so many alternatives for our energy supply... there is really no excuse to keep destroying the planet."
'Mining operations'
UK Coal was granted permission in October 2009 to extract 900,000 tonnes of coal from the opencast mine over 32 months.
The environmental protesters moved onto the site at New Works in January 2010, as the company was about to start operations.
Residents had opposed the original application by UK Coal and the project was referred to a planning inspector in 2008.
Plans were finally approved, following a public inquiry, in April 2009.
The Wrekin hill rises to 400m (1,330ft) above sea level and stands between Shrewsbury and Telford. It is also a registered Area of Outstanding Natural Beauty (AONB).
UK Coal has pledged to return the site to green fields within four years.