Protester charged after Wrekin mine disruption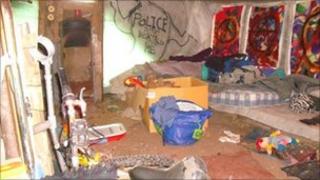 A protester who chained himself to machinery at a Shropshire coal mine has been charged with aggravated trespass.
The 22-year-old man was arrested on Tuesday after stopping work at the site of UK Coal's opencast mine at The Wrekin, near Wellington.
The man has been released on bail and is due to appear at Telford Magistrates' Court on 25 July.
A 19-year-old man who was also arrested on suspicion of aggravated trespass was given a police caution.
David Bolton, surface mines manager for UK Coal, said the disruption caused by the protest had halted work for three hours, costing the company "thousands of pounds".
'Environmental protesters'
About 12 people campaigning against the mine are facing court action after failing to leave their camp, which UK Coal described as "illegal, unsafe and disruptive".
An eviction notice gave the protesters until 1200 BST on Tuesday to vacate the camp.
Environmental protesters first moved on to the site at New Works in January 2010 as the company was about to start operations.
UK Coal was granted permission in October 2009 to extract 900,000 tonnes of coal from the opencast mine over 32 months.
The Wrekin hill rises to 400m (1,330ft) above sea level and stands between Shrewsbury and Telford. It is also a registered Area of Outstanding Natural Beauty (AONB).
UK Coal has pledged to return the site to green fields within four years.