New powerchair disability soccer club in Telford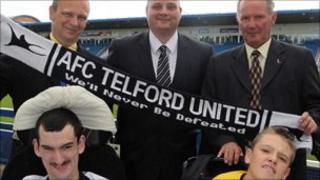 Shropshire's first powerchair disability football club has been formed in Telford.
Telford Powerchair Football Club has teamed up with AFC Telford United and Telford and Wrekin Council.
Players will wear the black and white shirts of the newly promoted AFC Telford United.
Chairman Neil Nash said membership was open to anyone who is registered disabled.
Mr Nash said the club offered regular training sessions and the chance to compete in regional and national leagues.
"This a really exciting time for the club and we hope to go from strength to strength as a result of our new partnership with Telford," he said.
"We are always on the lookout for new players and have built the club on a strong policy of inclusiveness which means that everyone, regardless of ability, age or gender is made to feel welcome.
The club is holding a taster session at Telford Arts and Technology College from 1400 to 1800 BST on Sunday, 14 August.
Regular training sessions are held at the college every Friday evening from 1800 to 2000 BST with the first session on Friday, 19 August.