Photo released of 'hammer used in Shropshire attack'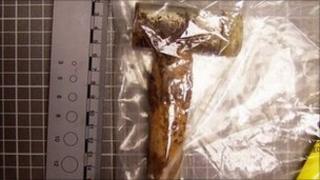 A photo of a hammer believed to have been used to attack a woman on a Shropshire canal towpath has been released by police.
The victim in her 40s was hit on the head several times as a woman attacked her at Hindford, near Whittington.
She was kept in hospital overnight, but not seriously injured. The attack on 7 June appeared to have been unprovoked, West Mercia Police said.
A hammer undergoing forensic tests has a wooden handle and a metal head.
Raised alarm
The victim had just left the Jack Mytton pub when she was attacked at about 2110 BST by a woman walking in the opposite direction.
She managed to get away and raised the alarm at a nearby canal barge.
The offender, who was described as white, being of slim build and about 5ft 7ins tall, ran off along the towpath.
She had jaw-length blonde hair with a fringe and layers cut into it and was wearing a green parker-style jacket and jeans.
Det Con Nick Williams said: "We have released a photograph of the hammer in the hope that someone may recognise it or know where it came from, which could in turn potentially help us identify the offender.
"At one end of the head is a rubber or plastic cap although the similar one that would have been on the other end is missing, suggesting it may be a specialist tool for a particular type of work.
"It appears to have been well-used and anyone who might recognise it is asked to get in touch."