Rotherwas Business Park bid given to government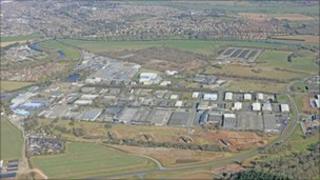 A bid to create an Enterprise Zone in Hereford has been submitted to the government, the council says.
Herefordshire Council, Herefordshire Business Board and the new Marches Local Enterprise Partnership (LEP) said they hope it will create 6,500 jobs.
A 164-acre area in Rotherwas was chosen last month as the site to develop private sector business, the council said.
The government has announced plans for 21 Enterprise Zones across England.
'Over-reliance'
The zones mean taxes can be cut, with a relaxation of some planning rules in small areas to attract new businesses and create new jobs.
Earlier this year, the government confirmed that the first zones would be based within 11 LEPs led by Manchester, Liverpool, Birmingham and Solihull, Sheffield, Leeds, London, the Bristol area, the Black Country, Derby and Nottingham, Teesside and the North East.
Councillor John Jarvis said: "Our proposal addresses the over-reliance of the Hereford employment base on a small number of large companies and the large level of public sector employment in the area.
"It will further enable the transition of the local economy from one of traditional industries, such as agriculture, to a modern, high technology based economy, building on strong existing foundations".
"Be under no illusions that obtaining this status will be an easy task.
"There is extensive national competition for Enterprise Zone status with 28 other LEPs bidding for only ten new zones."