Shrewsbury murderer Robin Ligus killed another man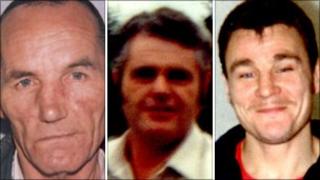 A jury has decided a convicted murderer from Shropshire killed another man in the county 17 years ago.
Robin Ligus, 59, was deemed unfit to plead after he suffered a stroke, so the jury at Birmingham Crown Court took part in a trial of facts.
It was asked to find the case proved or not proved into the murders of Trevor Bradley, 53, Brian Coles, 57, and Bernard Czyzewska, 36.
Jurors have found the case proved that he killed Mr Bradley.
They have asked for more time to consider the other two cases.
Ligus was already serving a life term for the murder of Robert Young, 75.
Mr Young was killed during a burglary at his home in Shrewsbury in 1994.
Police have indicated Ligus will now be made the subject of a hospital order.
Majority verdicts
The court heard Ligus, a father-of-three, had lived in Middletown Square, Shrewsbury, at the time of the killings.
The prosecution said he confessed to a psychologist, cell-mate and later police while in prison that he had killed three other men in the same year he killed Mr Young.
Prosecutor James Curtis QC said Ligus was a heroin and cocaine user and had committed the crimes to obtain money for his drug addiction.
The court heard he hit Mr Bradley on the head before setting fire to his car in Melverley where his body was found in April 1994.
Ligus watched via video-link as the verdict was delivered.
Before the jurors retired to consider the remaining counts, which relate to the deaths of Mr Coles and Mr Czyzewska in October and November 1994, they were told that majority verdicts would now be acceptable to the court.
The jury was later sent home without reaching any further verdicts and will resume its deliberations at 1000 BST on Friday.