Aga's jobs hopes for new cooker made in Coalbrookdale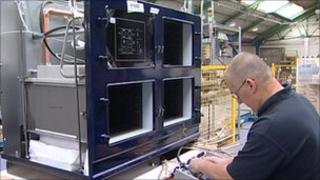 The Shropshire-based company Aga hopes its new cooker will stem a decline in sales.
The firm, which manufactures Agas in Coalbrookdale, has developed a new electric cooker which can be turned on and off, unlike traditional models.
Sales at Aga have dropped from 9,000 to 6,000 units a year in the recession.
It is hoped the new cooker will safeguard jobs at Aga's factory and foundry in Shropshire, where 350 people are employed.
William McGrath, CEO at Aga Rangemaster, said the recession had been "tough".
'Moving forward'
However Mr McGrath said it was still important to invest in product development during such times.
He said the new Total Control model was a "significant step change" for the business, and a real opportunity to expand sales internationally.
The new model can be programmed and each oven and hotplate controlled independently. Traditional Agas stay on continuously.
"We think this could be the product which stops the decline we've seen in Aga volumes in the last couple of years... and really sees us moving forward quite sharply," Mr McGrath said.
Barry Whitehouse, senior lecturer in enterprise and strategic management at the University of Wolverhampton, said Aga was an "excellent example" of a traditional manufacturer innovating to meet customer needs.
He said there had been major casualties in British manufacturing during the recession and developing markets overseas was the right move.
"If you don't innovate - you die," he said.