Four Shropshire primary schools to close in 2012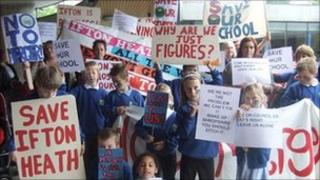 Four county primary schools will close from July 2012, a meeting of Shropshire Council's cabinet has confirmed.
The meeting approved recommendations to close Barrow, Maesbury, Shawbury and Hopton Wafers schools.
The decision was made despite last-ditch efforts from protesters outside Shire Hall.
Stiperstones, Onny and Lydbury North primaries, originally scheduled for closure, will remain open and pursue plans for federation.
The plans will allow schools within each federation to share some resources, such as a single governing body, head teacher and specialist teaching expertise.
As expected, the meeting approved the closure of Shawbury Primary School and the enlargement of nearby St Mary's C of E.
However, the cabinet said the enlarged school could be based on either of the two sites in the village of Shawbury.
Campaigners at Barrow C of E Primary, near Broseley, said they planned to fight the decision.
They said they hoped to keep Barrow open by turning it into a free school, which would remove the primary from local authority control.
Public consultation
The future of two Shropshire schools remains in doubt despite Wednesday's cabinet meeting.
Public consultation is still ongoing regarding Ifton Heath Primary, although parents and pupils from the school were outside Shire Hall protesting against plans.
The proposals include the closure of Ifton Heath, near Oswestry, while extending the age range at nearby Rhyn Park Secondary School to include primary pupils.
Public consultation is also continuing at Shrewsbury's Wakeman school, the only secondary named on February's closure list and by far the largest school affected by the plans.
A decision on Wakeman's future has been deferred until 7 September, after the results of consultation have been published.
Plans to federate
Wednesday's cabinet meeting offered good news for the three schools that put forward plans for federation.
Onny and Lydbury North put forward plans to federate on 2 June, while governors at Stiperstones primary more recently announced it intended to form a federation with Chirbury and Hope schools.
Hope Primary has since decided not to join the federation, which will see the schools share a number of resources.
Nikki Pugh, chair of governors at Lydbury North Primary, said there would be "huge educational benefits" as well as a chance to save "several thousand pounds".
As well as sharing a governing body and head teacher, the schools could choose to share resources such as transport and forest school sites.
Similarly the schools could share specialist teachers with expertise in areas such as literacy, numeracy or Special Educational Needs (SEN).