Princess Alexandra in Oswestry orthopaedic hospital visit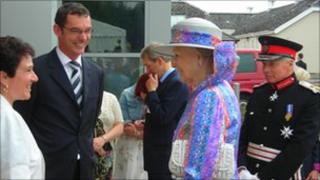 Princess Alexandra has presented a plaque to the Friends of the Robert Jones and Agnes Hunt Orthopaedic Hospital.
The plaque was to commemorate 50 years of fundraising for the hospital at Gobowen, near Oswestry, in Shropshire.
The princess was also given a tour of the recently opened Torch building.
The League of Friends made a considerable contribution to the £4m centre for research into muscle disease and mobility problems in children.
'Wonderful fundraisers'
Since it started in 1961, the league has raised more than £4m for amenity items and medical equipment at the hospital, as well as making donations for research and large appeals such as the Torch Appeal.
Helen Hughes, the organising secretary of the league, was presented to Princess Alexandra.
She said: "I came here nearly 22 years ago when my youngest child went to school to do a little part-time job for two years and the fact that I'm still here says an awful lot.
"I just love the hospital and have a huge admiration for the staff and all our wonderful fundraisers in the League of Friends and volunteers."
The princess was escorted by the Lord Lieutenant of Shropshire Algernon Heber-Percy.