Shropshire counts down to 2012 London Olympic Games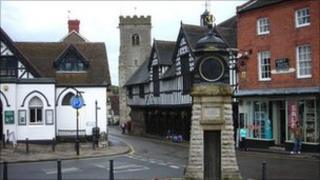 With just 12 months to go until the start of the London 2012 Games Shropshire is far from isolated from the Olympic countdown.
Much Wenlock, birthplace of the modern Olympic movement, is understandably the centre of county plans.
Preparations are already under way, but some are still reliant on funding.
The town has already had a taste of what might lie in store next year, having retold the Olympic story to much of the world's press.
Louise Cross, Shropshire Council's service manager for the visitor economy, said a lot of work had been done to spread the word about Much Wenlock's "very special story".
Journalists from Brazil, Europe, US news organisation CNN and even Chinese TV have all visited, with hundreds of millions of people believed to have seen reports on Chinese state television.
Shropshire Council, Wenlock Olympian Society and the town council have worked hard to tell the town's story to the world.
However the organisations said the biggest challenges over the next year would be practical, particularly in creating the necessary infrastructure.
The historic town, with a population of a little more than 3,000, has boasted a significance much greater than its size would suggest for more than 1,300 years, since the Abbey was founded in 680.
The medieval layout that gives the town its charm also makes it practically impossible to accommodate and cater for a huge influx of visitors.
Helen Cromarty, of the Wenlock Olympian Society, said it was difficult to predict the number of tourists the town might see next summer.
The society puts on Olympian Games every July, similar to those established by Dr William Penny Brookes in 1850.
Ms Cromarty said lessons had already been learned from this year's event, which had seen an increase in the number of spectators.
She said logistics would need to be improved next year, including boosting the number of volunteers, and there was a desire "to get it absolutely right".
If Wenlock cannot deal with a huge volume of tourists, it seems determined to improve the quality of visitor experience and keep people in the area for longer.
Much Wenlock Museum has been improved thanks to a £520,800 grant from the Heritage Lottery Fund.
As well as new trails and signs, smart phone applications and Quick Recognition (QR) codes are also being launched to guide visitors around the town and surrounding area.
Marathon trails are being created to encourage visitors to see other parts of the county and ultimately generate more for the local tourist economy.
The Olympian Society hopes some of the 2012 competitors will be among the visitors venturing north of London to find out about the origins of the modern Games.