Shropshire woman faces 'high jump' for charity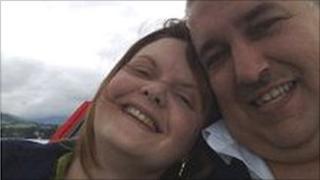 A Shropshire woman who is scared of heights is preparing to take to the skies for charity and the unit which treated her former partner.
Mark Clayton was 52 when he died of swine flu in the intensive therapy unit (ITU) at the Royal Shrewsbury Hospital in January.
His partner, Lisa Hawker, wants to raise money to build a relatives' area at the unit.
She has been raising money for the past three months and her campaign ends with a sky-dive from 10,000 ft (32,000 m) on 30 July at Whitchurch.
As well as equipment, 37-year-old Ms Hawker hopes to raise £5,500 for a bladder scanner.
She also wants to raise awareness of the dangers of swine flu stressing that even the fittest people are vulnerable and it is not just the very old and very young who are at risk.
Staff 'fantastic'
"It's the 20s to 50s, the age group that you wouldn't expect because they are the most healthy," she said.
Mr Clayton died after spending 12 days in the ITU. Ms Hawker said the staff had been fantastic.
"They were absolutely out of this world...They cared for him and they cared for me as well. Outstanding," she said.
The couple, who lived in Monkmoor in Shrewsbury, had been together for three-and-a-half years after meeting while Ms Hawker was training to be a driving instructor.
She said she had found it hard to come to terms with her partner's death.
"I was angry for a very long time but I did get to a stage where, because of the children mainly, I had to get on with my life.
"I have to think about what Mark would have wanted me to do," she said.
She added: "Mark was scared of flying and would never go in an aeroplane, so to actually jump out of a working one I thought was quite fitting for him. So that's what I wanted to do."
Ms Hawker will be doing the jump at Tilstock airfield near Whitchurch with three friends, but admits she is not looking forward to it: "I'm petrified, absolutely petrified. I'm scared of heights."