Helicopter chief at RAF Shawbury heads to Helmand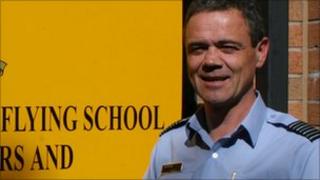 The commandant at the Defence Helicopter Flying School (DHFS) in Shropshire is to take charge of all UK and US helicopters in Afghanistan.
Group Captain Jock Brown will become Commander of Task Force Jaguar based at Camp Bastion for the next six months.
The 44-year-old will be working with many pilots and aircrew he has trained at RAF Shawbury.
He said the helicopter had an "essential role" in Helmand delivering supplies and transporting personnel.
Gp Capt Brown has been in charge of the helicopter flying school at RAF Shawbury for the past two-and-a-half years.
During that time he has trained about 800 men and women for the RAF, the Army and the Royal Navy.
'Itchy feet'
He said many of those people were now on the front line: "They'll be working for me in a very different guise than they did when they were here as students.
"So I'm quite excited about that - to see just how good and competent they are from all three services."
Gp Capt Brown, who is married and has an eight-year-old son, served as a helicopter pilot in Afghanistan in 2007 and said he had "itchy feet" to get back on operations.
"I'm not looking forward to leaving my family for six months, but I'm very much looking forward to the challenges that lie ahead," he said.
The commander he replaces in Afghanistan will be taking over his role at RAF Shawbury.
Captain Paul Shawcross said that in Afghanistan he worked an average 18-hour day, without weekends, for six months - with one break of two weeks in the middle.
The 51-year-old, who trained in the navy, said the challenge of the job in Afghanistan was the pace and intensity: "It's clearly a potentially very dangerous working environment.
"There are people trying to do harm to us, so you've got to be on your game," he said.
Asked how he felt about the prospect of sending pilots and crews into dangerous situations, Gp Capt Brown said: "At times we do have to go into harm's way... knowing them [pilots and crew] actually gives you the strength to know that you're sending the right people forward, because they are ready for what you've asked them to do."
UK and US helicopters operate side by side in Afghanistan and have an important role because of the threat posed by improvised explosive devices (IEDs) to vehicles on the ground.
Transporting supplies is essential, but morale for troops is another key factor, according to Gp Capt Brown.
"Should anything unfortunate happen, we will be there as quickly as possible to remove them from the battle space," he said.