Telford trial: Witness denies asking about case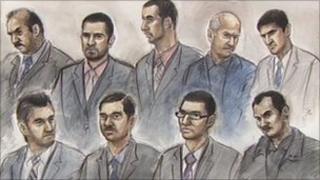 A woman, said to be a victim of sex exploitation, has denied encouraging another alleged victim to tell her what she said in court.
Both women have been giving evidence against a group of men accused of rape and controlling child prostitution.
Stafford Crown Court heard that one woman, now 20, had been asking an 18-year-old what she had told the court.
Nine men deny a range of sexual offences against seven girls in Wellington, in Shropshire.
Dean Kershaw, defending Noshad Hussain, gave details of texts between the two women obtained from the 18-year-old's mobile phone records from 20 June.
The 18-year-old had just started giving evidence and had been asked by the 20-year-old when she would be finished.
The younger woman replied she did not know, and that she did not want to talk about the case as she was not allowed.
Mr Kershaw said the older woman continued to ask her about it.
The 20-year-old denied she had been pressing the teenager and also denied trying to arrange a meeting between the 18-year-old and two more alleged victims to talk about the matter.
Two of the defendants have now been discharged because of illness.
Mohammed Younis, 59, and 34-year-old Abdul Rouf, will be tried separately at a date to be fixed.
The remaining men, who are aged between 21 and 52 and from Telford, face charges including rape, controlling child prostitution and sexual activity with girls under the age of 16.
The men on trial are Ahdel Ali, 23, Murbarek Ali, 28, Mohammed Ali Sultan, 24, Tanveer Ahmed, 39, Mahroof Khan, 33, Noshad Hussain, 21 and Mohammed Islam Choudhrey, 52.
They deny all of the charges, which relate to the alleged sexual abuse and exploitation of girls in Wellington between September 2007 and December 2009.
The victims are seven teenage girls, one of whom was 13 years old at the time the alleged offences were committed.
The trial has been adjourned until Tuesday.