Shropshire woman 'shattered' as therapy sessions ended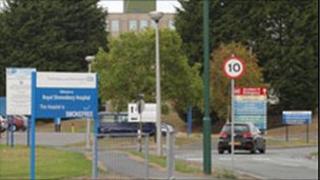 A Shropshire woman who has multiple sclerosis has said group therapy sessions at a Shrewsbury hospital gave her a lifeline.
Jude Welsby was shocked when they came to an end abruptly in February 2010 after two therapists left.
She attended a meeting of the Shrewsbury and Telford Hospitals NHS Trust Health Communities scrutiny meeting this week.
She wanted to know why there had been no provision for her continued therapy.
Ms Welsby, who is 56, attended sessions in art therapy at the Hamar Centre at the Royal Shrewsbury Hospital which provides support for people with cancer and other long term illnesses.
"When I first went to the Hamar Centre, I was a short while away from utilising the services of Dignitas in Switzerland because I have MS and fibromyalgia and my life has been totally altered by the experience of both those illnesses.
"The therapy that I received at the Hamar Centre while it was ongoing was excellent.
"It called me away from that and gave me a lifeline, so I was really shattered when it stopped so abruptly because I was in mid process," she said.
Her diseases are painful and debilitating and she said she had initially found it hard to engage in the therapy sessions.
"Once I had 'opened up' and looked at my situation more coolly I was able to see that perhaps I had a future, so I have not yet resigned from Dignitas, but I have not yet used it either," she said.
Not been back
The sessions at the Hamar Centre have restarted but Ms Welsby has not been back.
She said the sessions were now different and there was nothing to replace the therapy that helped her to find meaning in her suffering and reconciled her to her death. She wanted the committee to provide similar sessions.
Ms Welsby and four other former clients of the centre were invited to the scrutiny meeting after calling for a review into how the sessions ended. She said the committee listened to their comments.
"They were very interested and they were very thoughtful and they considered what we were saying very carefully, which I am very grateful for because it makes a difference to be listened to," she said.
Apology
Julia Clarke, who is director of compliance and risk management at the trust, apologised to those affected.
Speaking after the meeting Ms Clarke said a lot had changed since 2010 and two new counsellors had been appointed.
"We had users involved in the appointment which is the first time we've ever done that in the trust and they are doing a tremendous job.
"I would like to just remind people of the wonderful work that the current counsellors and therapists are doing and anybody is welcome to come and have a look around the centre," she said.