Birthplace of poet Wilfred Owen features in online film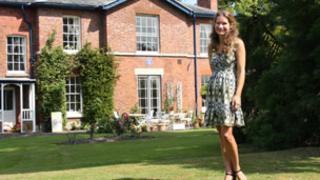 The house in Shropshire where war poet Wilfred Owen was born is the subject of a planned online film about its famous former resident.
Plas Wilmot, in Oswestry, is currently home to Naomi Nicholas, who is making the piece.
She and her family all play parts in the home-movie, which will be posted on the internet when it is finished.
Mrs Nicholas is renovating her rented home and hopes to restore it to how it was when Owen lived there in 1893.
He moved to Wilmot House in Canon Street, Monkmoor, Shrewsbury, when his maternal grandfather died in 1897.
Film in sepia
Mrs Nicholas said most people thought the Canon Street house was his birthplace.
"This one isn't well known in the same way," she said.
There is a memorial plaque on Plas Wilmot, but it is at the back of the house.
"We've recently had a letter from the Wilfred Owen Society saying they want to put one on the front as well," Mrs Nicholas said.
In the film, the poet's father Tom is played by Mrs Nicholas' husband Paul. The young Owen is played by her four-year-old son Tolly and she plays Susie, Owen's mother.
"We've put it into sepia and I hope people don't think they're actual originals.
"It is just us having a little bit of fun, adding a bit extra to the film and of course we had terrific fun doing it," she said.
Edward Salter, Wilfred Owen's great grandfather, started building the Oswestry house in 1829, but died a year later. His wife Mary finished the house.
The Nicholas family moved into the house two years ago.
Once she had discovered it was the birthplace of Owen, Mrs Nicholas said she had to have it.
"There was no going back. I convinced my family that we had to live here.
"It was a wonderful opportunity. It is a wonderful place for Tolly to say he was here and lived in the house Wilfred Owen lived in."
She decided to make the film because there were plenty of pictures of the outside of the house, but none of the interior.
"When we first moved in I immediately rushed out and bought all the biographies.
"In chapter one of the most recent biography by Dominic Hibberd... it describes this room and as I was reading it I was looking up at the ceiling that he was describing in the book. It was a surreal experience," she said.
The film, A Poet at Plas Wilmot, will go online in mid to late August.