Campaign fails to save Grange day centre in Shrewsbury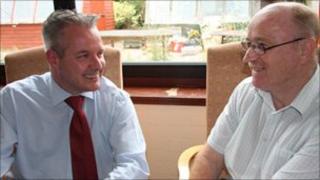 The Grange day centre in Shrewsbury has closed despite a long campaign to keep it open.
The centre in Harlescott provided day care and activities for people with physical disabilities.
The closure is part of Shropshire Council's efforts to cut its budget by £76m.
Protesters gathered outside Shire Hall in Shrewsbury in January to present a 1,000-signature petition asking for the Grange to be saved.
Users and staff held a party at the centre to mark its closure.
Steven Chandler, the assistant director for adult social care at the council, said all the people who had attended sessions in the past had found alternative places.
Grange user Eddie Davies said the centre had been a lifeline for him after he had a series of strokes and had to stop working.
"I was just getting worse sitting in the house. I was brought here one day and I've been coming ever since. That was in '97," he said.
Mr Davies said he missed his friends from the centre who had become like family to him but he now has plenty of things lined up to do.
He said he was attending another centre in the town for two days and planned to join the National Trust and visit stately homes with his personal carer. He has also signed up for a computer course.
"I see light at the end of the tunnel. It was not knowing what was going to happen that's the trouble," he said.
Mr Chandler thought the steering group set up to oversee the closure of the Grange had done a good job.
"We've not only, in changing the Grange, saved money, but we've improved the experiences of every person who attended here," he said