Monkmoor skate park revamp hits the skids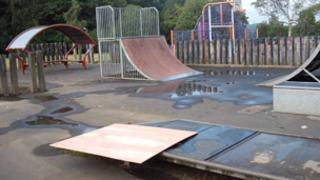 Plans to rebuild the derelict skate park at Monkmoor in Shrewsbury have been shelved.
The skate park closed two years ago because of health and safety concerns, but plans had been put forward for a total revamp.
Shropshire Council has decided to abandon the scheme because of the need to reduce its spending.
Derek Owen, of the Monkmoor Skate park Group, said they were disappointed about the council's decision.
"It was falling apart but we thought it might only be a few months we had to wait until we could use it again. Here we are two years on and it's actually in a worse condition," he said.
'International venue'
Mr Owen said the council had only consulted primary school children before formulating its original plans.
He said: "This is where the knowledge of the local older riders who ride around and skate around the country comes in. They know exactly what is required to create a successful skate park.
"The proposal that was put forward was a junior version of what was once an international venue."
"We realise there are a lot of cuts going on at the council at the moment and skate parks may not be the priority, but we have been waiting for two years now and there weren't cuts two years ago.
"We just want our park back."
Shropshire Council said it had reviewed the plans because of the need to make savings.
"It's important that we spend whatever money we have wisely and perhaps across numerous sites to make sure the maximum number of people can benefit," a spokesman added.