Shropshire Hills win Heritage Lottery Fund cash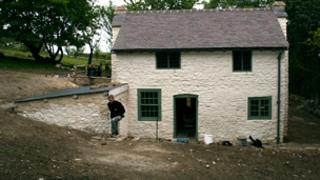 The Shropshire Hills area of natural beauty has been awarded a grant from the Heritage Lottery Fund.
The Stiperstones and Corndon Hill Country Landscape Partnership Scheme is to receive £93,800.
The scheme will work jointly in England and Wales to ensure the area is recognised as a centre of industrial heritage.
It will also explore the history of more than 700 years of border conflict.
The aim is to show both local people and visitors the impact of lead, copper and barytes mining and quarrying on communities, the villages and the land which spans 168 sq km on the Shropshire Wales border.
'Inspiring' landscapes
Anne Jenkins, head of the Heritage Lottery Fund for the West Midlands, said the area was rich in prehistoric, medieval and industrial history.
"Landscapes have been inspiring people for centuries, whether that be through poetry writing, photography, riding a bike or just simply enjoying the view," she said.
"With this HLF award under the ground-breaking Landscape Partnership Scheme, we can protect the UK's special natural environment and help local communities take care of the open spaces around them."
The initial development funding is to help the Shropshire Hills AONB Partnership and partners from both sides of the border to progress towards applying for a full grant next year.
If the partnership gets through to the second round of funding the five year delivery phase will bring a total of £1.75m of extra money to the area.
The scheme hopes to deliver restoration of mining relics, improved conservation management, better cross border access and interpretation, promotion of local products and services, training and an apprenticeship programme in traditional skills, recording memories of older people in the area and work with schools.