Wernlas Collection chicken breeders in Ludlow retire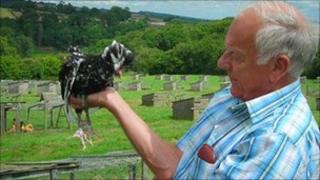 A Shropshire couple who built up one of the country's most important rare breed chicken collections have decided to sell their business.
Shaun and Sue Hammon started the Wernlas Collection near Ludlow, originally as a hobby, 25 years ago.
Today the collection includes more than 60 different breeds.
The business, which employs three full-time staff, hatches some 15,000 chicks each year, with customers across the world.
Mr and Mrs Hammon said they had enjoyed their work, but were looking forward to retirement.
"Apart from a fortnight each year, we haven't had a weekend off for 25 years. I think we're entitled to chill out and put our feet up now," Mrs Hammon said.
"We've probably taken eight months to get to this stage and a lot of agonizing and tears. But now we've made that decision we're feeling a bit easier about it."
The couple said they planned to auction their stock on 3 September, but had not ruled out the chance of selling the business as a going concern.
As well as selling chicks, the Wernlas Collection has worked with several universities and institutions researching the genetics of rare poultry breeds.
It has also featured in TV programmes, including Countryfile and Channel 4's Big Breakfast, as well as in national newspapers.
'Leaving a legacy'
Despite selling the business, Mr Hammon said he wasn't overly concerned about the future of the breeds in the collection.
"We increased the bloodlines so we could supply unrelated males and females," he said.
"I suppose we are leaving a legacy, but there are people who show poultry who also breed. So there are a few more out there. People will fill the gap.
"We've had customers from all over the world. Our hatching eggs have gone to Finland, South Africa, Spain, Portugal, the Falklands and many other countries."
Mr Hammon said that several fellow breeders had already expressed an interest in some of the stock being auctioned next month.
However he added that, despite his work, some breeds remained extremely rare, with as few as 200 females worldwide.
Mr Hammon said he had been inspired to collect rare chickens by his father, who had trained on a poultry farm at the age of 14, before World War II.
"I grew up with poultry and I grew up with all my father's cigarette cards of chickens and posters from the 30s and 40s.
"I also wanted to to work outside and I went into farming when I left school," Mr Hammon said.