More retained firefighters needed in Shropshire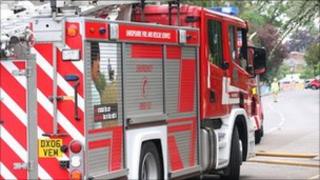 Shropshire Fire and Rescue Service has said more part-time firefighters are needed across the county.
Area manager Andy Johnson said recruitment was an ongoing problem in some areas, especially during the day.
"Retained firefighters are essential. We would not be able to run the service without them," he said.
Of Shropshire's 23 fire stations, 19 are crewed solely by retained personnel, with part-time crews also operating from other stations.
Telford Central is the only station in the county with no retained presence.
Mr Johnson said a number of factors, including scheduled retirements and the economic climate, had affected cover over the past few years.
While some part-time firefighters had been able to devote more time to the service, others were forced to seek work further afield and could no longer commit to the same hours.
As well as a high level of fitness, retained firefighters are required to be within five minutes of their local station during the hours they agree to.
'Giving something back'
Mr Johnson said the service was keen to hear from anyone interested within the county, but that firefighters were particularly needed in areas such as Much Wenlock, Cleobury Mortimer and Minsterley.
Despite the extra money, he said pay was rarely an important factor in joining the service.
"For most firefighters, it's doing something for the community and giving something back," he said.
"These are relatively small communities and these people are very visible doing a good job for their areas."
Mr Johnson said anyone interested should visit their local fire station.
An open day is being held at the recently upgraded Minsterley Fire Station on 21 August.