AFC Telford and Luton Town match off amid EDL march plan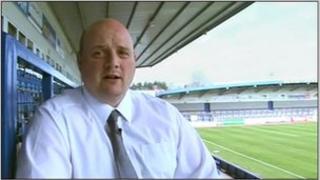 Saturday's match between AFC Telford United and Luton Town has been called off amid plans for a march through a Shropshire town.
The Football Conference said that after receiving information from West Mercia Police, both teams had agreed to postpone the game, at Telford's ground.
The English Defence League is planning to march in Wellington on Saturday.
The police have asked Telford and Wrekin Council to apply to the Home Secretary to have the march banned.
Deputy Chief Constable of West Mercia Police, Simon Chesterman, said a decision on the application under the Public Order Act, which would prevent any marches taking place, is expected later.
"Although a ban may now be imposed, we would ask people to remember that this ban does not prevent an assembly taking place on Saturday in Wellington," he said.
The EDL said: "We are not coming to Telford to inconvenience anyone, and we certainly do not intend to cause any trouble.
"We are coming to Telford because of huge local demand and because we believe that local people's voices deserve to be heard."
New date soon
Supt Gary Higgins, Telford police commander, apologised for the cancellation of the match but said the events of the past week had left them with little choice.
A new date for the match at the Bucks Head ground will be set as soon as possible, the Football Conference said.
The game had already been put back to an evening kick-off because of the march.
In a joint statement, Christian leaders from across the county and the wider West Midlands paid tribute to the work of the emergency services over the past week and criticised the planned march in Wellington.
"We have been heartened to see communities affected by the recent violence come together as one in response.
"The EDL should follow this example and call off their protest," they said.
'Deeply frustrated'
On Wednesday, AFC Telford chairman Lee Carter had said the game would still go ahead.
Mr Carter said he was "deeply frustrated" and "angry" the match had had to be called off.
He said: "It's not something we wanted to be dealing with.
"We wanted to be a lot more positive given that it's our first venture back into the conference for seven years."
Mr Higgins said: "In normal circumstances we would have no wish to interfere with AFC Telford's fixture list but I hope people understand that current events, both locally and nationally, simply cannot be classed as 'normal circumstances'."
The Football Conference said anyone who had already bought tickets for the match should contact the vendor.