Telford soldiers awarded Captain Webb medal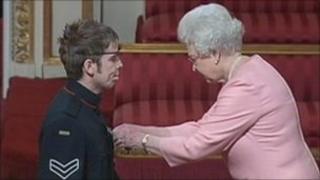 Two Shropshire soldiers commended for bravery in Afghanistan are to be awarded rare civilian medals.
Warrant Officer Kim Hughes, 31, and 26-year-old Corporal Ricky Furgusson will be given the Captain Webb medal at Shrewsbury Flower Show on Friday.
The medal was established in 1916, with only one other recipient, Pc Richard Gray, since 1967.
WO Hughes and Cpl Furgusson, both from Telford, have been awarded the George Cross and Military Cross respectively.
The Captain Webb medal was established by the Shropshire Society in London to "recognise examples of extreme courage" by people in the county.
'Outstanding act'
In 2009 bomb disposal expert WO Hughes cleared a minefield without protective clothing to allow wounded soldiers to be rescued.
The Ministry of Defence described the act as, "The single most outstanding act of explosive ordnance disposal ever recorded in Afghanistan."
Serving with 4 Battalion The Rifles, Cpl Furgusson was awarded the Military Cross for rescuing wounded colleagues in four separate incidents in 2009.
In January 2010 Cpl Furgusson lost both legs and an eye in a bomb blast.
Deputy chairman of the Shropshire Society David Tudor said: "The outstanding bravery of these two soldiers in Afghanistan is an example to all.
"Their courage in truly horrendous circumstances is something which we feel should be recognised in the civilian world as well as in the military. They are both heroes and Shropshire is very proud of them"
The civilian medal is named in honour of Dawley-born Captain Matthew Webb, the first person to swim the English Channel.