Wellington: Rival protesters gather in town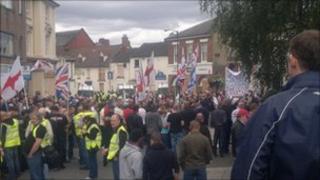 Rival protesters gathered at a Shropshire town where a march was banned by the home secretary.
Up to 350 members of the English Defence League and 250 opposition protesters gathered in Wellington.
But after speeches, people at both rallies began to disperse during the afternoon, West Mercia Police said.
A number of people were later arrested during an incident at Morrisons coach park, police said.
Earlier, five people were arrested following minor incidents of disorder, but the crowds were "largely good natured", said police.
They said there were only sporadic and isolated incidents of disorder.
Fearing trouble, a leisure centre and library shut and some traders boarded up shops. A football match between Telford and Luton was called off.
The march was banned on Friday but groups were still allowed to hold static protests.
Some roads closed and bus routes were disrupted.
Ch Insp Keith Gee, of West Mercia Police, said he had been expecting a large number of protesters to travel from outside Shropshire.
"Our role is to facilitate peaceful assembly on the day, to ensure that the groups involved can exercise their democratic right to free speech whilst causing as little disruption as possible to those not involved, who want to go about their business as usual," he said.
He said the groups would not be given police protection but would be escorted to make sure everyone got to where they needed to be without disruption.
Extra police officers and civilian staff had also been drafted in, he added.