Man's quest for Shropshire pipe kilns ends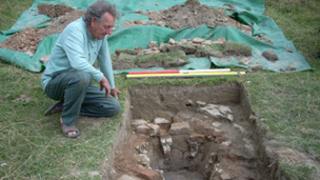 For the past 15 years, archaeologist Dr Alan Peacey has been digging into the history of Shropshire's tobacco pipe industry.
Making pipes was a cottage industry in the 18th century and the village of Pipe Aston near Ludlow had more kilns than most.
Now Dr Peacey has excavated his last, and best Shropshire kiln and is going home to Stroud in Gloucestershire to write up his findings and publish a book next year.
He is a specialist in tobacco pipe manufacture and the kilns in which they were produced.
"I came here 15 years ago because I knew we had two or three kilns in close proximity to one another.
"I've excavated five kilns here and there is a standard pattern for the later group, 1650 to 1750.
"Earlier than that and they tend to be a little more individual and less formalised," he said.
He said pipe production in the area was quite easy to date.
"If you look at medieval documents for the parish it's described as Aston, Assiston or Hesingtune. Pipe comes in much later into the early 19th Century when it appears on property deeds."
Best preserved kiln
There were numerous pipe makers in the parish, distinguished by the stamps on the pipe bowls.
Dr Peacey was most impressed with one he found under pasture land. It was his last and best find.
"This is by far the best preserved kiln that I've ever worked on or that anyone else has ever worked on."
The broken pipes found nearby were marked WH. They were made by a father and son team, both called William Hopkins. The elder Hopkins died in 1728 and his son in 1734, giving an accurate date to the kiln.
The kiln had been well preserved because it lay undisturbed under farm land since it was demolished.
"That's the joy of working in a rural parish like this. In urban situations there's so much activity that's gone on since the demise of the industry that you just get little pieces and parts of incomplete structure," he said.
Dr Peacey believes the pipe making industry in the countryside died out when they were superseded by large manufacturing plants, such as the one at Broseley.
"They probably produced their pipes cheaper and in greater volumes and guys like this just gradually faded out of the picture."
As he prepares to leave Pipe Aston after 15 years piecing together the history of pipe making in the parish, he is filling in his excavations and leaving the sites exactly as he found them.