Family of injured soldier look to build sensory garden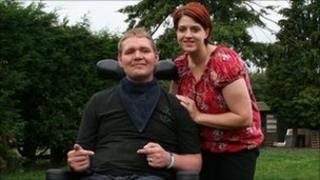 The family of a Shropshire soldier who was badly injured in Afghanistan is looking for public help to create a sensory garden to aid his recovery.
Cpl Simon Vaughan, 27, suffered brain damage and other injuries in 2008, when his vehicle hit a bomb in Helmand.
Now in a wheelchair, Cpl Vaughan, from Newport, is only able to communicate through an electronic aid.
His wife Donna, said they hoped for donations and advice on creating a garden that could stimulate his mind.
The family have already built a specially-adapted home in Ercall Heath, near Newport, thanks to public donations totalling more than £100,000.
"With it being a sensory garden, with all the smells and tastes and different colours, it's meant to help stimulate the mind and hopefully give him a better quality of life," she said.
Mrs Vaughan said her husband had already defied medical opinion after the family was told he would remain in a vegetative state for the rest of his life.
"After what he's been through he's still smiling, still laughing and he's got his personality back, all the things the doctors said he would not get back.
"They have now said that he could possibly have the potential to get back on his feet, obviously with help.
"He's got a goal. By July next year he wants to stand in the pub with his mates on the commando reunion," she said.
Cpl Vaughan was part of the Royal Electrical and Mechanical Engineers, but attached to 29 Commando, when he was injured in the bomb blast.