Retiring member attacks Shropshire Council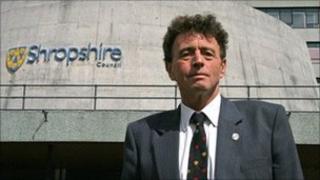 A retiring Shropshire councillor has strongly criticised the way the authority is run.
Liberal Democrat Councillor Peter Phillips said council officers and the Conservative-led administration were "wrecking the organisation".
Mr Phillips claimed council officers had too much power to influence policy.
Deputy leader of Shropshire Council Ann Hartley described Mr Phillips as having "forthright opinions" and wished him well in his retirement.
Shropshire Council has said it needs to save £76m by 2014, because of reduced government funding.
It said a 5.4% pay cut and other changes to conditions among staff would avoid it having to make about 400 redundancies.
'Destroyed morale'
Mr Phillips has been a councillor since 1981 and is a former deputy leader of Shropshire County Council.
He said: "They have destroyed staff morale, trampled over public opinion and muzzled backbenchers and the opposition."
His comments come as the Unison union prepares to ballot its members over strike action from Wednesday.
About 40% of staff at the authority are Unison members.
Mr Phillips, who represents the Bishop's Castle ward, said he had considered retiring before the 2009 elections.
"I did have some health issues, which left me not quite as vigorous as I used to be.
"I decided to stay on until the last big issue was resolved, the schools issue."
Mr Phillips has been an outspoken opponent of planned school closures.
Four Shropshire schools are scheduled to close after July 2012. A decision is expected to be made regarding two other schools in September.