Fifty jobs on offer as Shropshire firm expands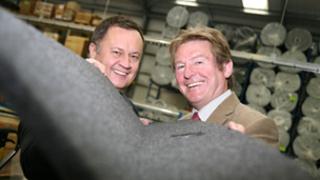 A company with bases in Shropshire and Mid Wales is looking for 50 more workers.
Cobra UK, which is based at Whitchurch and Welshpool, is expanding after winning orders worth more than £20m for vehicle flooring.
The firm started in 2002 supplying parts to MG Rover and had to adapt after the car maker collapsed in 2005.
Cobra UK is currently testing a new aircraft seat which is being trialled by a major airline in September.
Managing director Gary Seale said the company won European Business of the Year last year for achieving 100% growth for five years running and this year won a Queen's Award for Enterprise.
'Core skills'
The company currently employs 72 people and the new posts will be filled between now and next March.
Mr Seale said he was keen to employ young people but found some lacked key skills.
"We're struggling to find youngsters who can do basic maths and English. It really is a struggle. Kids who can't do fractions, they can't do percentages and to me that's a core skill," he said.
Cobra has been supported by the Manufacturing Advisory Service-West Midlands (MAS).
Roy Pulley, the new product development manager from MAS, said it had been working with Cobra since 2006 on the flooring and the aircraft seats.
"These are world class innovations and one is already reaping dividends with a multi-million pound order and the creation of 50 new jobs on the shop floor, technical staff and process engineers," he said.
Mr Seale said the 50 new jobs would be divided between the Whitchurch and Welshpool factories and there were also prospects for further expansion in Wrexham and Telford.