Lapage family aim for Olympic rowing medals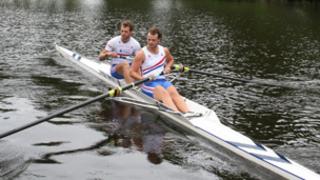 Two brothers from Shropshire are aiming to emulate their grandfather and win Olympic rowing medals.
Michael Lapage was a member of the British eight which took the silver medal behind the USA in the 1948 "austerity" Games in London.
Now his grandsons, Patrick and Sam are training hard hoping to get close to the Olympics team.
The brothers have represented their country in different boats and both have their sights set on the ultimate goal of rowing in the Olympics.
They both row in national teams at age-group level but neither are currently in the GB senior squad, or among the first-choice reserves.
If they do not make the 2012 Games they have said they will aim for 2016.
Grandfather an inspiration
Mr Lapage, who watches his grandsons train on the River Severn at Shrewsbury, said things had changed over the years.
"The oars are a different shape now. They're made of carbon fibre instead of wood.
"In my day they were made of two bits of wood hollowed out and stuck together again."
He recalled stepping up to receive his medal: "I suppose I was feeling a bit disappointed we hadn't got the gold.
"I've still got the medal and my blazer."
Sam Lapage, who is 17 and at Shrewsbury School said his grandfather's achievement was an inspiration.
This view is echoed by his 21-year-old brother Patrick who studies at Harvard University in the USA.
"There's no better event in rowing than the Olympics so that's always the ultimate goal."
Their father Philip is a rowing coach and he fully supports his sons' Olympic ambitions.
"They've already achieved more than I ever did and I'm very proud of them. Who knows where they'll get to in the future. For as long as the dream is there my job is to fuel it," he said.
Michael Lapage, who is 87, had never seen film footage of the Olympic final, nor had his family.
BBC Radio Shropshire's Nick Southall tracked it down and showed them the race.
Philip Lapage described it as "quite emotional" and "a wonderful piece of footage".
For Olympic hopeful Patrick it was "very inspiring".
"It's not everyone's granddad who's got an Olympic silver medal. It was cool to see it and see how much it's changed."
Michael Lapage remembers the opening ceremony in 1948 as being very low key with none of the "razzmatazz" of the modern games.
He said the British team had not been the favourite for a medal.
"I think the predictions were that we wouldn't even get to the final three. We didn't realise quite what we were in for."
And he has an explanation for being beaten to the gold medal by the Americans.
"They had more meat than we did. We were still on rations."