Mark Hodnett death: Shrewsbury River Severn fence call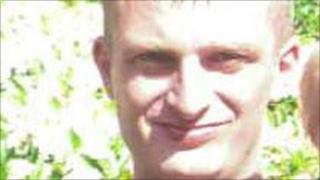 An online campaign to have parts of the River Severn in Shrewsbury fenced off has been started after a missing man was found dead in the water.
The body of Mark Hodnett, 27, was found on Thursday, five days after he was last seen in the town centre.
A Facebook page has been started calling on Shropshire Council to fence-off the river.
According to police statistics, more than 20 people have died in the river during the past six years.
Last sighting
Mr Hodnett was seen leaving the C21 nightclub in Abbey Foregate in Shrewsbury at about 0100 BST on 13 August.
The last sighting of him was on the English Bridge.
A member of the public reported seeing someone in the river at about 0500 BST on Saturday morning and a search began.
His checked shirt and mobile phone were found on the river bank near the Quarry.
A police spokesman said they were satisfied that the body found near Kingsland Bridge on Thursday was that of the 27-year-old, who lived in the Radbrook area of the town with his partner and one-year-old son.
A post-mortem examination will be carried out later and an inquest opened in due course.
Mr Hodnett's friend Matthew Everington is backing the Facebook campaign.
Poster campaign call
"In the last few years, you think about the amount of people and the amount of families who've had to go through what Mark's family are going through. Something needs doing," he said.
He admitted that it was not practical to fence off the whole river "but precautions need to be taken, measures need to be put in place".
Katie Lisa Wall posted on the Facebook page saying lighting as well as a barrier around the river was needed.
Lisa Roberts suggested a proactive approach, with a poster campaign in pubs, clubs and on the river bank with the warning "A dangerous cocktail, alcohol and the Severn don't mix".
Tom McCabe, Shropshire council's director, said: "The land alongside the river is managed by various different landowners and the council, police, fire service and others are working together to raise awareness of the dangers of the river as well as how to make it safer.
"This includes safer drinking awareness campaigns and the installation of life buoys.
"We will continue to work with the wider River Safety Group with the aim of allowing safe and appropriate access to the paths alongside the river."