Fake British money made by Nazis sold at Ludlow auction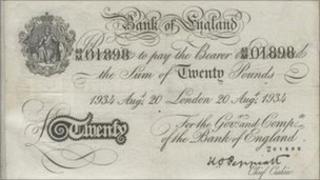 A group of counterfeit British banknotes made in Nazi Germany during World War II have sold for just over £1,000 at a Shropshire auction.
The notes, made in concentration camps under Operation Bernhard, were a German plot to destabilise the British economy by flooding the UK with the fake money.
But British Intelligence found out and dumped the notes in a lake in Austria, from where some were later recovered.
A second lot of two notes sold for £600 at Mullock's in Ludlow.
Richard Westwood Brookes, from Mullock's, said the fakes, which are perfect, were highly sought after by collectors.
He said the British government was afraid of them turning up in the decades after the war.
Earmarked for bombing
Mr Westwood Brookes said Operation Bernhard had failed because British intelligence got wind of the plot and only one £5 was paid out by the Bank of England.
Many of the notes ended up dumped in Lake Toplitz.
"The ones that come on the market were actually retrieved from Lake Toplitz in a diving expedition mounted by some American divers in the 1980s," Mr Westwood Brookes said.
Also in the sale were some Ordnance Survey maps of the West Midlands which had been over-printed by the Nazis as part of Hitler's invasion plans.
Mr Westwood Brookes said on one map, which sold for £200, several places in Shropshire had been earmarked for bombing including Ironbridge and a military complex at Craven Arms.