Shropshire dairy farmer in finals of RSPB award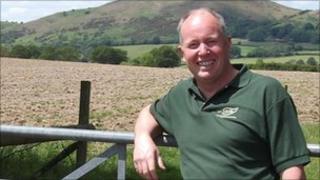 A Shropshire dairy farmer's efforts to support wildlife have seen him reach the finals of a national competition.
Robert Kynaston from Great Wollaston Farm, near Halfway House, is down to the last four in the RSPB Telegraph Nature of Farming Award.
The 51-year-old sows fields with winter food for birds, trains land managers and welcomes farm visits.
He said: "It's not just about birds, because birds need insects... it's a whole structure of wildlife."
Mr Kynaston who grows his own crops to feed his cattle and milk from the farm goes to a local cheese producer.
Idyllic 'office'
Asked how he felt about his farm, Mr Kynaston said: "This is my office, this is where I work...
"Some mornings when I get up and it's clear and crisp and I'm walking behind the cows and you hear some of the curlews... I think this is idyllic."
Great Wollaston Farm has been in Mr Kynaston's family since 1921 and covers 97 hectares of countryside.
He said he enjoyed supporting wildlife and the environment and being paid for some of it by the Department for Environment, Food and Rural Affairs was an added bonus.
"I love the variety," he said. "It's not just slog and production and I do get some money for it... the best of both worlds."
A number of plots at the farm have now been planted with different mixes of wild bird seed which not only provide food for birds in winter but are also used to demonstrate the variety of seed mixes to other farmers.
Darren Moorcroft, the RSPB's Head of Conservation Delivery, was one of the competition judges who selected Mr Kynaston as the West Midlands' regional winner, and then put him through to the final four.
Barley stubble
He said they were impressed by the way Mr Kynaston integrated a broad range of environmental considerations with a successful business.
A field of winter barley at Mr Kynaston's farm, which was cut in August, will now be left as stubble until the spring.
"There are a few weeds here and some spilt grain as well, and that'll supply seeds for birds that overwinter in this country - to give them a food source," said Mr Kynaston.
Other factors that influenced the judges were the Shropshire farmer's careful water management, and the time he invested in allowing disadvantaged groups to visit the farm through the charity Linking Environment And Farming.
The Nature of Farming Award aims to celebrate the work farmers in Britain are doing for wildlife.
Mr Kynaston said he was very proud to reach the finals, especially as he was the first dairy farmer to reach the last four since the award was introduced four years ago.
The other finalists are David White from Wiltshire, Carolyne and Somerset Charrington from Argyll and Bute, and Robert Law from Hertfordshire.
The winner will receive £1,000 and will be decided by an online vote on the RSPB's website, which closes on 31 August.