Mark Hodnett death: Police warn about river risks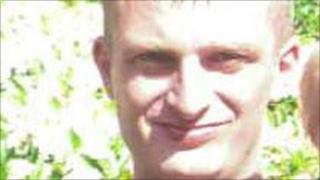 Police say there have been at least 24 deaths in the River Severn in Shropshire in the past seven years as they renewed their safety advice.
The warning about the dangers of the river follows the death of a 27-year-old man in the river, in Shrewsbury.
The body of Mark Hodnett was recovered from the Severn on 18 August.
Mr Hodnett went missing in the early hours of 13 August after a night out in the town and was last seen on the English Bridge.
West Mercia Police said they wanted people to show a greater awareness of the dangers posed by the river, especially when heavily under the influence of drink.
'Extremely dangerous'
Ch Insp Martin Whitelegg said the circumstances of Mr Hodnett's death were still being investigated but the tragedy served as a reminder to everyone to be wary of the river when out and about in the town.
He said: "This tragedy highlights yet again the need for everyone to be aware that the River Severn is extremely dangerous.
"The fact is that Shrewsbury town centre, with its pubs and clubs, is enclosed by the river and virtually everyone making their way home after a night out has to either cross it or pass close by.
"During the past six or seven years, there have been at least 24 deaths in the River Severn through Shropshire, the majority in the Shrewsbury area. Furthermore, nine or 10 of these were people heavily intoxicated and walking home alone."
He added there had been "many more" incidents where people under the influence of alcohol have been rescued from the water.
He said during the same period police attended more than 100 incidents involving people at risk in, or near, the river in Shrewsbury.